---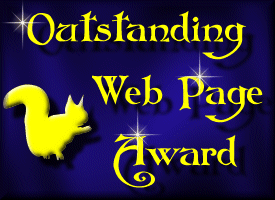 Thanks very much to WNC-Rehab for this great award! Click on the award to visit her page and learn all about squirrels and for information on animal rehab! And be sure to join the Squirrels R Us Webring found on the Webrings page.
---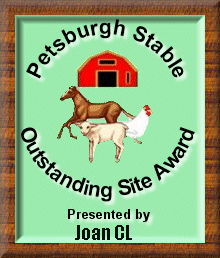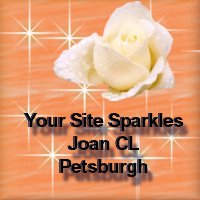 Thanks so much for these awards from Joan, the Co-Liaison for Petsburgh Pet Rescue Center. She has a great site at Lilly Pad Pets where all animals are loved! And I think it is great that she adopted pets from a shelter. Our little cat, Ginger, was a stray and has been spayed, so save a life and have your pets fixed or spayed!
---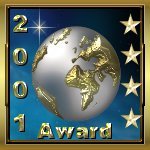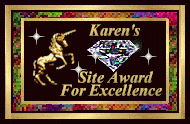 Thanks to Karen of Kiwi Graphics for these great awards! She has some of the best graphics I have seen! I love to look at other peoples stuff and just admire it! Also thanks to Karen for the Golden Unicorn Award of UFO's - A New World! Hey, I'm open minded and it is very interesting.
---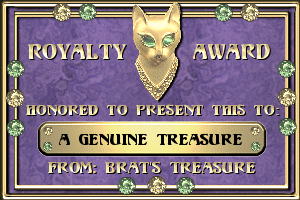 A wonderful message was sent with this award, "I searched thru my treasure chest, thru it's silver & gold, to find just the right thing and then... to behold... for there before my eyes, in all it's glitter & shine, was just the right thing to create and call mine. So I worked it and molded it, in such the right way, to show you exactly how you made me feel today. What a wonderful site, one cannot measure, so I leave you this gift, fare-thee-well from Brat's Treasure." So I thank you so much for this award and your beautiful site, but mostly for your contribution to the protection and appreciation of the animals.
---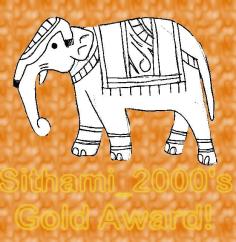 Thanks very much to Elizabeth at "Elephants" for her Sithami 2000's Gold Award!
---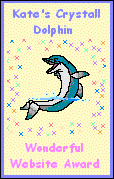 Thanks to "Kate's Crystall Dolphin" for her Wonderful Website Award. She has a great site filled with some of the cutest cyber pets and I really love the layout of it. A really fun site!




---

THE RAIL
Be sure to take a ride on "The Rail" Web Ring! I am located on the Animal Car, but there many other cars on The Rail!
---



Home
Site Map

Email at: dh @ naturehaven.com
(Take out the spaces and this email address will work!)


A Midsummer Night's Dream | Awards and Webrings | The Bird's Nest | Birds of Fall | Birds Of Spring | Birds Of Summer | Birds Of Winter | Bison | Black Bears | Botanicals | Butterflies and Moths | Caecilians | Caribbean Amphibian | Chipmunks | Cottontail Rabbits | Cougars | Dolphins | Elephants | Flamingos | Frogs | Home | Hummingbirds | In The Garden | Joyous Spring | Manatees | Moo's Holstein Paradise | My Backyard Bird Count Statistics | Nature News | Ocean Dreams | Poetry | Salamanders & Newts | Sea Otters | Sea Turtles | Squirrels | Summer | The Library | The Ocean Realm | The Parrot Republic | The Pond | Tigers | Toads | Wildlife of Western North Carolina


---