Spring in this area is nothing short of wonderous. It follows a time of year that is virtually leafless, cold, and quiet. Then in a very short period of time, more than a few leaves have budded. Followed by the awakening of most animal life, flowers, birds, and insects. The windows are opened and the rich sounds and scents of spring surround you! It will awaken all your senses and invigorate you. At least it does for me. I cannot wait to throw open the windows for good. I miss the sound of the Peepers (small tree frogs) and Katydids (green bugs) that sing me to sleep all through to the end of summer. This is spring in western North Carolina's southern Appalachian Mountains. Below are a few images of Spring, please "click" to see a bigger picture of each one.
The Black Mountains (part of the southern Appalachian Mountains) of western North Carolina have ridges that rise to a maximum of 6684 feet at Mount Mitchell, the highest in eastern North America. It is named for Dr. Elisha Mitchell, who was a professor at the University of North Carolina. He first measured its height in 1835. In 1857, Dr. Mitchell set out to verify his measurement of the peak, and he fell and died at the foot of a waterfall on the mountain. He is buried at the summit of Mount Mitchell. Between these high summits and the surrounding lowlands at less than 1000 feet there is a range of climates and environments that are as diversified as the habitats found in the area from Georgia to Newfoundland. This one mountain range encompasses almost every forest type that occurs in the eastern half of the continent.
At the height of glaciation 18,000 years ago, ice sheets covered the Appalachians as far south as north-eastern Pennsylvania. Because of the Southern Appalachians escaping glacial scouring, the region is a treasure trove of biological diversity. In the Southern Blue Ridge Province of the Southern Appalachians (the mountains of western Virginia, eastern Tennessee, western North Carolina, northwestern South Carolina and north Georgia), there are approximately 2,500 species of vascular plants. Many of these are "endemic" to the region; that is, they are not found growing wild in any other place in the world. Some are so restricted in range as to be found only in a few spots within the Blue Ridge.
The greatest number of species of trees in North America is found here, including a score of species whose representatives reach record proportions and are the oldest in North America. So dense are these woods that there are, in fact, very few places - streams and certain bald ridgetops - where trees do not grow. One of the largest old growth preserves in the eastern US, is North Carolina's Joyce Kilmer Memorial Forest. It is located in Graham County, and has a 3800-acre tract of untouched trees up to 400 years old. Huge poplars, some 20 feet in circumference, tower 125 feet or more toward the sky. There are also giant red oaks, and magnificent hemlocks. The area was dedicated on July 30, 1936, to the Poet, Joyce Kilmer as a living memorial.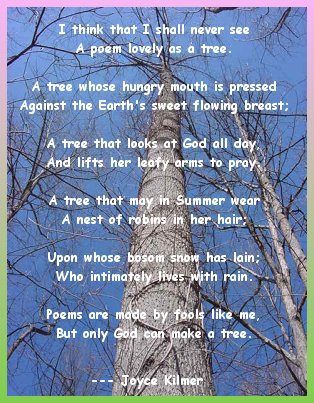 The butterfly pictured at the top of the page is a Red Admiral (Vanessa atalanta) and it is found in this area as well as from subarctic Canada to Central America. It is 1 3/4 inches to 2 1/4 inches in size. The Red Admiral will alight on a person's shoulder day after day in a garden. This species emigrates north in the spring, and there is some evidence of a return flight in the fall. In midsummer it is not unusual to see them chasing each other or Painted Ladies (another species of butterfly) just before a thunderstorm or at dusk. During the full sunshine hours, they are more likely to be found quietly drinking from flowers or fruit.
Another frequent visitor in this area is the Carolina Wren (Thryothorus ludovicianus), pictured at the top of the page. This bird is around 5 1/2 inches in length. They range from south Iowa, east to south New England, southward to Texas and Florida. They are a compact, energetic, warm brown bird; large for a wren. They nest on my porch in the ferns in the summer, and have wintered in a birdhouse on the same porch. Many a nest of young wrens have been raised on our porch. Once we had the pleasure of being present when Mom and Dad Wren sent the young ones out for their first flight. The parents were both present and would call to the young birds to get them to fly to the safety of the underbrush with them.

References
"Eastern Forests" by Ann and Myron Sutton
"Eastern Birds" by John Farrand, Jr.
George Ellison with the Asheville Citizen-Times
Home
Site Map

Email at: dh @ naturehaven.com
(Take out the spaces and this email address will work!)

Please Read Guestbook Please Sign Guestbook