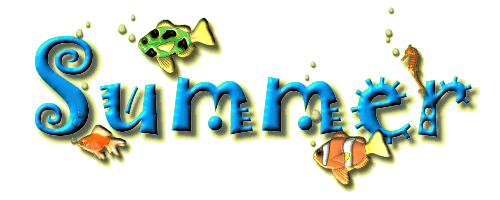 Ok, what is summer? It is definitely more than just a season, it is a state of mind. A way of living, if you will. It is a time when you think everything is possible. So I guess this summer page will reflect all the fun things that I do, even if some things occur at a different time of year. Like I said, summer is a state of mind. And to get that point across, I will start with the Jimmy Buffett concert I went to on February 23, 2005...
It may have been winter, but on February 23, 2005, Jimmy came to the Charlotte Coliseum in Charlotte, NC and brought a little summer with him. No really! The previous weather was cold, snowy, wet, and gloomy. Concert day? WARM and SUNNY! The day after? Very cold, sleet and snow flurries. He even remarked on the weather at the concert. I was so glad, since the preconcert parking lot party is as much a tradition as the concert itself. I mean, where else can I say that I saw a giant bottle of tequila, guys 10 feet tall, stood next to a giant shrimp with sunglasses, sharks swimming around on tops of vehicles, and a stretch Hummer limo that was wearing a grass skirt????




Denise & the Giant Shrimp Biggest Tequila Bottle - Ever! Tony & the Giant Shrimp






Fins to the Right! Mobile Tiki Bar Stretch Limo with Grass Skirt






Sharks in the Parking Lot FREE Shrimp! Really Tall Guys






Party Time in the Parking Lot Very Big Flamingos Good Night Mr. Shark!



A Salty Piece of Land Tour
February 23rd, 2005 - Wednesday!




"Piece of Work"
"Stars On the Water"
"Coconut Telegraph"
"Presents To Send You"
"Ragtop Day"
"Come Monday"
"Diamond As Big As The Ritz"
"Woman Goin' Crazy On Caroline Street"
"License To Chill"
"Changes in Latitude, Changes in Atitude"
"The Horizon Has Been Defeated"
"Cheeseburger In Paradise"
"Volcano"
"Gypsies In The Palace"
~~ Intermission ~~




~~ Johnny Carson Tribute ~~
WDWGD North Carolina Parrotheads
"La Vie Dansante"
"Lighthouse"
"Banana Republic"
"Son Of A Son Of A Sailor"
"Southern Cross"
"Coast Of Carolina"
"Last Mango In Paris"
"One Particular Harbour"
"It's Five O'Clock Somewhere"
"Margaritaville"
~~ Encores ~~
"Fins" and Band Intros
"Uncle John's Band"
~~Last Encore ~~
"Pirate Looks At Forty"

And from a previous concert on April 20, 2002 ... with more varieties of Hawaiian print shirts visible than you could ever dream of, we found ourselves at the Greensboro Coliseum (in NC) parking lot a few hours before concert time for the best party around! Grass skirts, coconut bras, leis, parrots, cheeseburgers, margaritas, palm trees, volcanoes, fins, the Conch Republic flag, an A1A highway sign, pirate flags, pirates, flamingos, and of course, sharks! Fins up, the Parrotheads have landed! Just a first impression...




Denise & Christy Tony & Christy Grass Skirts in Line






USS Sharkmobile Destination A1A Parking Lot Tiki Lounge






Bovine U-Haul Shark Twister Anyone? Flamingos On Top






Palmtrees & Coco-NUTS Shark Attack! ...Where I'm a Gonna Go...





Far Side of the World Tour
April 20th, 2002 - Saturday!




"Banana Boat Song" ("Hot, Hot, Hot")
"Is there a party over here?" (Buffett Rap song)
"Stars on the Water"
"Blue Guitar"
"The Weather is Here, Wish You Were Beautiful"
"Come Monday"
"Boat Drinks (sung by the Soggy "Reefer" Boys)"
"Why Don't We Get Drunk"
"Cheeseburger In Paradise"
"Last Man Standing"
"Son Of A Son Of A Sailor"
"Margaritaville"
"One Particular Harbour"
"Brown Eyed Girl"
~~ Intermission ~~
"Jolly Mon"
"Banana Republics"




"Volcano"
"Far Side of the World"
"Savannah Fare You Well"
"Everybody's Got A Cousin In Miami"
~~ Jimmy announces contest winners ~~
"What If The Hokey Pokey Is Really What It's All About?"
"A Pirate Looks At Forty"
"I Love The Now"
"Fins"
"Southern Cross"
"Fruitcakes"
"Margaritaville" (with The Lost Verse)
~~ Encores ~~
"Changes In Latitudes"
Band Intros - "The Tiki Bar Is Open"
"I'm Growing Older but not up"
"Tonight I just need my guitar" fades into "Here comes the sun"
Home
Site Map

Email at: dh @ naturehaven.com
(Take out the spaces and this email address will work!)

Please Read Guestbook ~~~ Please Sign Guestbook



The timelessness of a summer evening
was the only taste of immortality most humans ever got...
...Nevada Barr




A True Parrothead!
This site is best viewed with a Margarita in hand and whatever browser you've got.