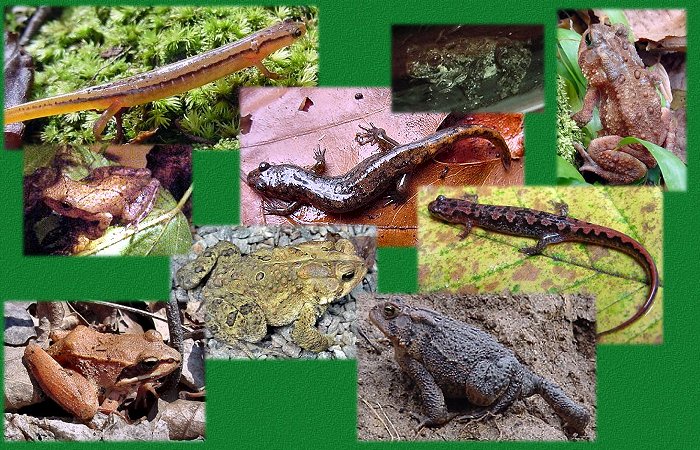 "2008 - The Year of the Frog" was formed by leading conservationists throughout the world in hopes of raising both awareness and funding needed to address the amphibian extinction crisis that is the greatest species challange faced by the human race. Why save amphibians? Amphibians are an indicator species of environmental health and our health as well. Their response to environmental contaminants have lead to major changes that can profoundly affect our health. They eat pest insects that benefit successful farming around the world, and also help lessen the spread of diseases such as malaria by eating insects.
With up to half of the world's 6000 amphibian species threatened by pollution, disease, and climate change in the near future, Amphibian Ark was formed with its many partners to address the global survival of amphibians, and "The Year of the Frog" was born in response to this need. Amphibian Ark plans on establishing rescue facilities in latin America and Africa where most of the threatened species live. They also have zoos establishing facilites for amphibians too. Many zoos and aquariums are promoting and adding amphibians to help with species survival as exhibits. These exhibits will help with public awareness and the opportunity for the public to see amphibians that they have never seen before.
The Year of the Frog - 2008 has the support of the World Association of Zoos and Aquariums (WAZA). They have the commitment of their many institutions as well. Each of the 500 largest WAZA zoos must take responsibility of 1 amphibian species to stem the losses. That means that 500 species will personally have the full attention of an entire zoo to help them from becoming extinct.
The Association of Zoos & Aquariums (AZA) is also supporting The Year of the Frog, and making it a celebration to involve people through zoos in this country, the USA. The kickoff was "Leap Day" on February 29, 2008, where many zoos and aquariums were holding events.
The collective success will come from companies, governments, and individuals who will support this commitment in saving amphibians by donations of time, money, and awareness. I personally am helping with awareness by trying to further inform people with this webpage, and website as well as learning about local efforts to help with the conservation of amphibians. I will also donate for the efforts, and write government representatives about this issue. I have personally spent time and effort to find as many amphibians in the area where I live, to see for myself how important and interesting that they are. So my promise is:

"Little toad that I hold in the palm of my hand, like all of us who hold the future of amphibians together, we must promise and uphold that promise to make a more secure future for all of you."

Denise of Naturehaven.com
---
---
More information about amphibians at Naturehaven.com:

Frogs | Toads | Salamanders and Newts | Caecilians

Caribbean Amphibian


Home
Site Map

Email at: dh @ naturehaven.com
(Take out the spaces and this email address will work!)